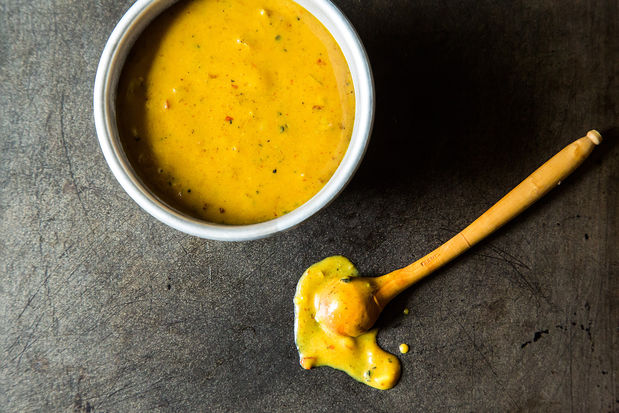 A good barbecue requires a good sauce. Everyone who makes a great barbecue invariable makes a yummy sauce. It is an essential ingredient and is the main part of the smoked chicken whole, or chicken ribs. Most of the sauces that exist today are a result of some astute experimenting by the cook. Here is one I experimented with and it came out with flying colors.
The Ingredients – 100 grams yellow mustard, 50 grams butter, cumin seeds 5 grams, garlic paste, ginger paste, yogurt 50 grams,salt 10 grams,sugar 5 grams.
The Process – The yellow mustard should be put in water 3 hours before making preparation. Then it should be made into paste in a mixer. Take a non-stick frying pan and put butter in it. Heat till the butter melts. Heat the melted butter for a couple of minutes. Then add cumin seeds, and put the garlic paste with ginger paste. Cook for a couple of minutes. Add the mustard paste and cook on sim flame for 5 minutes.The sauce will have a deep yellow color. Add yogurt to make the color light yellow. Keep on cooking for 5 more minutes after adding salt and sugar to the sauce.
Cool down the sauce which will be light-yellow in color. You can store it in the refrigerator and take it with you for the next barbecue picnic. I tell you your smoked chicken will rock with this amazing sauce.
The Variations – If you want a more tangy sauce, you can double the mustard quantity. If you want a more buttery taste double the butter and yogurt quantity.